Your Rating & Comments over the Social Media
We are an all-round Organic Osteopathic Center and we only rely on your Word of Mouth. Therefore, Your Feedbacks are extremely important to us and we give the utmost attention to what you say. Our quality officer ensures that all comments get a reply. The concerned party (i.e your osteopath, our operation manager, etc..) personally replies within 24h.
No doubt, we are social creatures since the moment we come to this world. We are all naturally interested in knowing what other say before we make our decisions. Making a comments gives YOU the opportunity to have a voice from behind your desktop. Thus, it lets others know your point of view.
We review All your comments daily and we display them above(even the negative ones) .
A Trust Index reflects your opinion. It summarizes all your reviews over various social media and indicates your overall trust level.
Your Feedbacks from our Quality Surveys
PHHC owes its success to the persistent care given to patients, our Osteopathic expertise and the efficiency of our treatments.
Because we are result oriented, any patient we can't efficiently treat is a failure. So, If we can't help, we'll say it and we won't charge for it. Moreover, we 'll help you find a suited specialist among our medical partners. Normally, unless you have a chronic disorder, we should not have to see you coming back for the same issue. We should only be see you again either for a preventive session or different unrelated disorder.
Being a 100% patient centered clinic, all our staff does its best to create and maintain an empathic relation with you.  Our entire team constantly works to always improve your experience. In PHHC, YOU are part of our big family.
Over the years, more and more practitioners and patients are trusting us. Hence, they spread the word within their communities, their relations. Today, the majority of our new patients are referred either from satisfied patients or other practitioners.
So, ... what do your surveys say ?
Every month, we analyze all your quality surveys and our osteopaths review the results. These helps us improve our services and to better meet your expectations.
Your satisfaction is assessed yearly over 7 different service dimensions against an Excellence Ratio*
External environment (building, area,…)
Operational efficiency (waiting time, help with paperwork, …)
Access to service (ease of booking, availability of doctors, …)
Treatment efficiency (improvements, effectiveness of treatment, …)
Quality of Practitioners (listening, treatment, respect, professionalism,..)
Communication efficiency (understanding your need, … )

Wellness (life changing, …)
All raw data are available in our facility, upon request.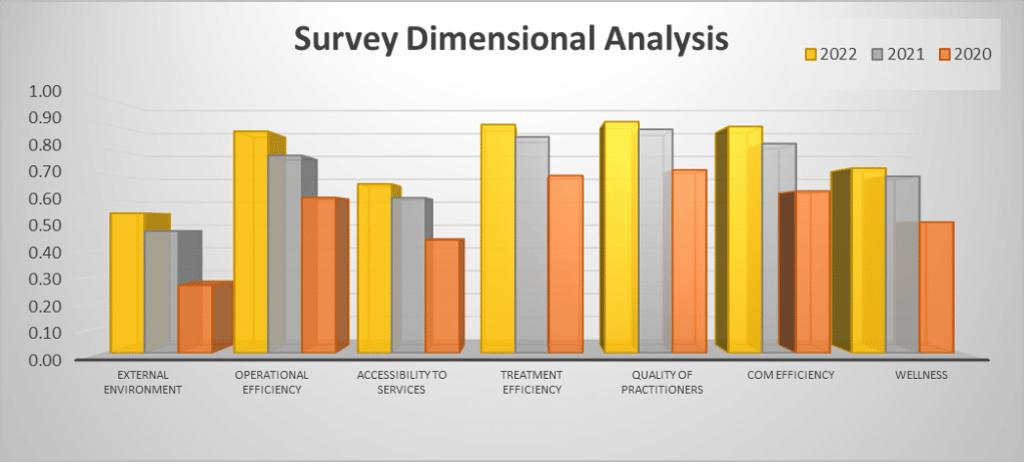 Comparative dimensional analysis for 2020/2022 : all data are normalized over a population of n=1350. *Excellence Ratio = % of Excellent rating / % of Satisfied (Source: PHHC internal Quality data)